Elissa Posted on March 27 2018
One of the questions I get asked most frequently in my business is "Where do you find all your stuff?"
Buying for my store is one of the best and most challenging parts of running Calico. Obviously, it's super-fun to pick out the cutest clothing and accessories and find hot new brands and designers that my customers will love! But there's also a ton of strategic planning that goes into maintaining a balanced product assortment - so we don't end up with a bunch of tops and no pants, for example - and staying on budget each month and throughout each season, so that we're not over- or under-inventoried!
Ready to head into the show, after waiting in the longest line EVER for this much-need coffee!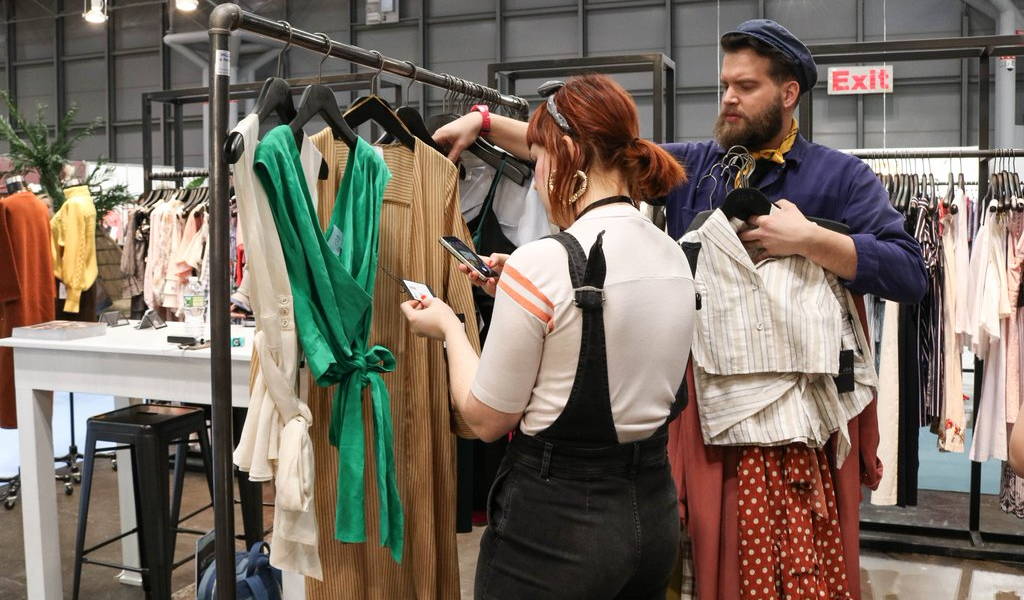 Lizzy & Jeffrey keepin' tabs on our selections.
I have to keep all this in mind when we hit up the trade shows. Luckily, I always travel with Jeffrey; not only does he has a great eye, he also happens to be a human calculator. (Let's just say math is not my strong point.) And this time, we also brought our friend Lizzy along, to help capture some behind the scenes photos and "show style" to share with you here on the blog!
We attend fashion trade shows in New York about four times a year, so we can hand-pick all the clothing and accessories we carry at Calico. We always go to Coterie and Fame, and this time we also made a quick pitstop at Project to meet with one of our newest brands, Levis.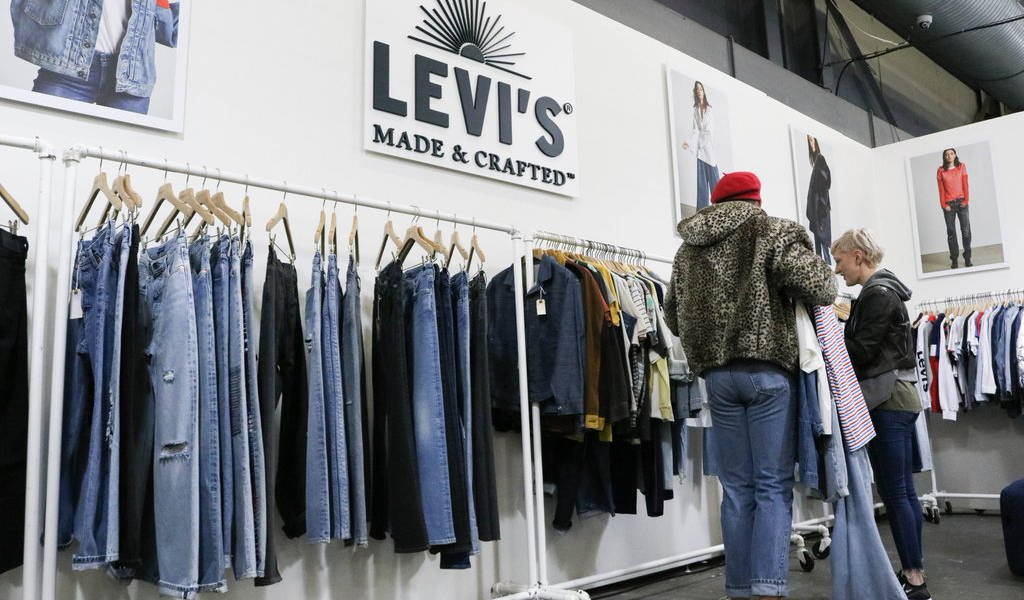 Jeffrey & I try not to buy all the Levi's ever.
We are so excited to bring in Levi's classic denim to Calico! These favorites are the best fitting jeans ever! We ordered the "Wedgie Straight Fit," two styles of cutoffs, and a classic boyfriend fit denim jacket. I personally LOVE denim. I wear jeans almost every day. For me, denim is the perfect neutral and base to any outfit. It works on so many levels.
I love following trends and picking out cutting edge styles for my store, but I also value timeless staples that never go out of style. The Levi's brand is truly timeless.
As you might imagine, these fashion trade shows are crawling with the most stylish people! I always want to wear yoga pants and sneakers, because it's so much work and walking, but I'm forced to step up my outfit game - at least a little - or else I feel like a major frumpadump.
Swipe to see more Show Style! ☝️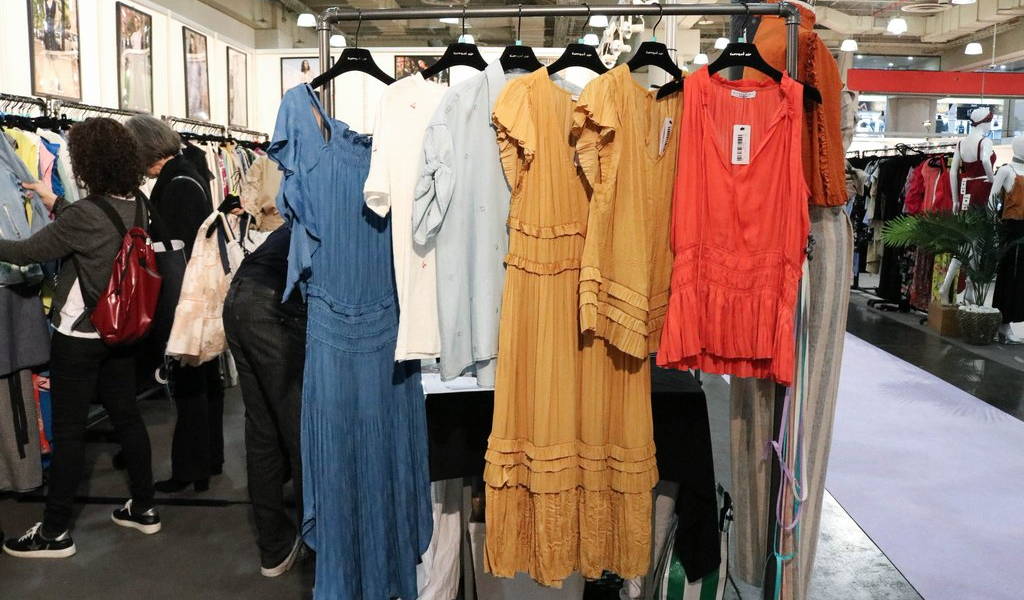 Bohemian dresses and tops for summer 2018
After Project, we hopped in an Uber and headed over the the Javitz Center. The Javitz is a huge convention center; it's so big there are always at least three different trades shows going on at once! The first one we hit was Fame, where we picked up tons of cute immediates -- retail-speak for styles that will ship in the next couple months.
Some of the biggest trends we noticed for both summer and fall are midi length dresses, menswear-inspired suiting, polka dots, and 90's throwback everything!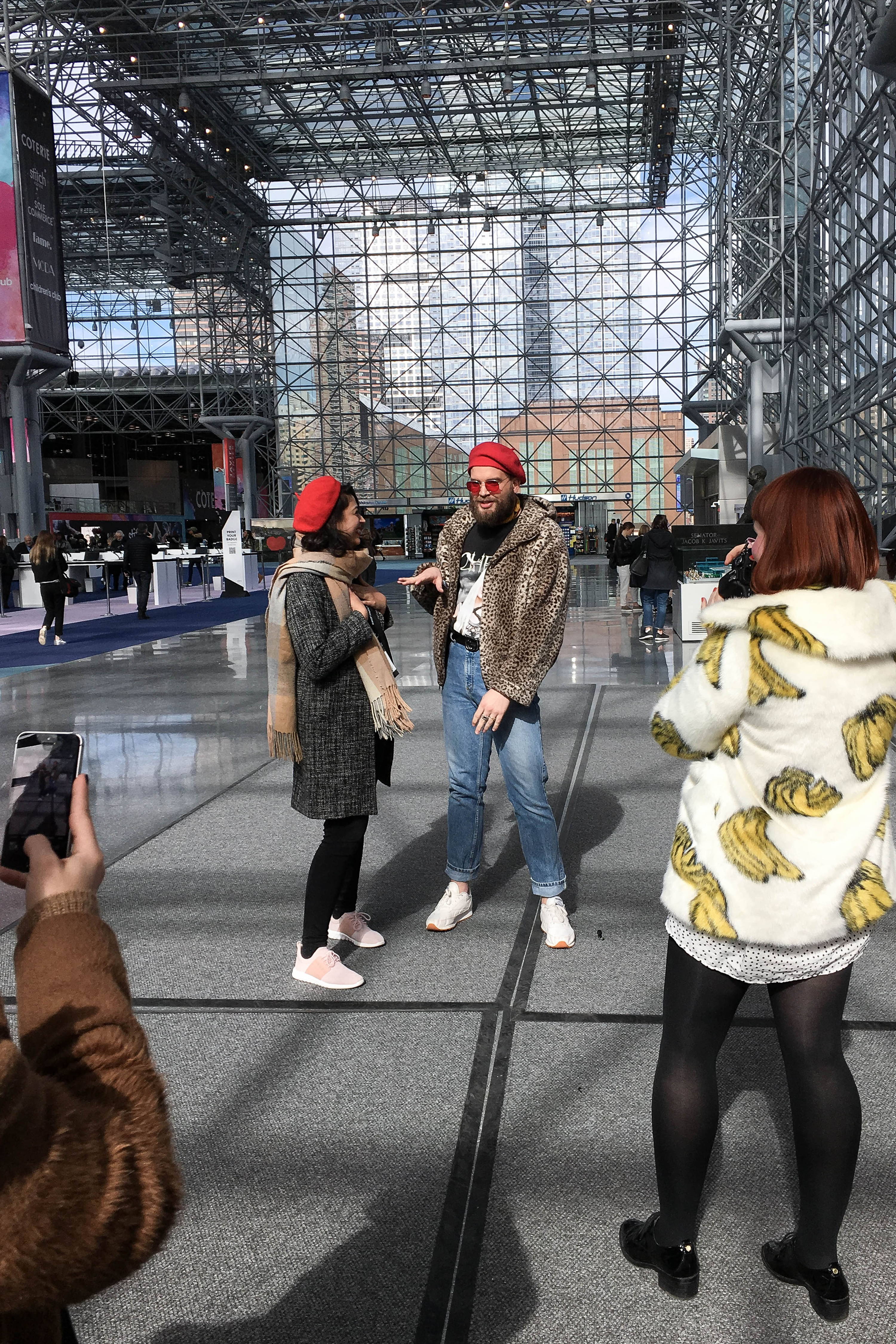 Our buy for the up-coming season focuses alot on wedding guest dresses and jumpsuits (we have to be careful not to buy too much white!) and easy breezy tops you can dress up or down. We always make sure to have a great selection of denim, go-with-everything kimonos and dusters, and cute casual dresses you can just throw on and go! In terms of color palettes, we're super into golden rod yellow and bright red for summer 2018!
Free People always with the gorgeous visuals.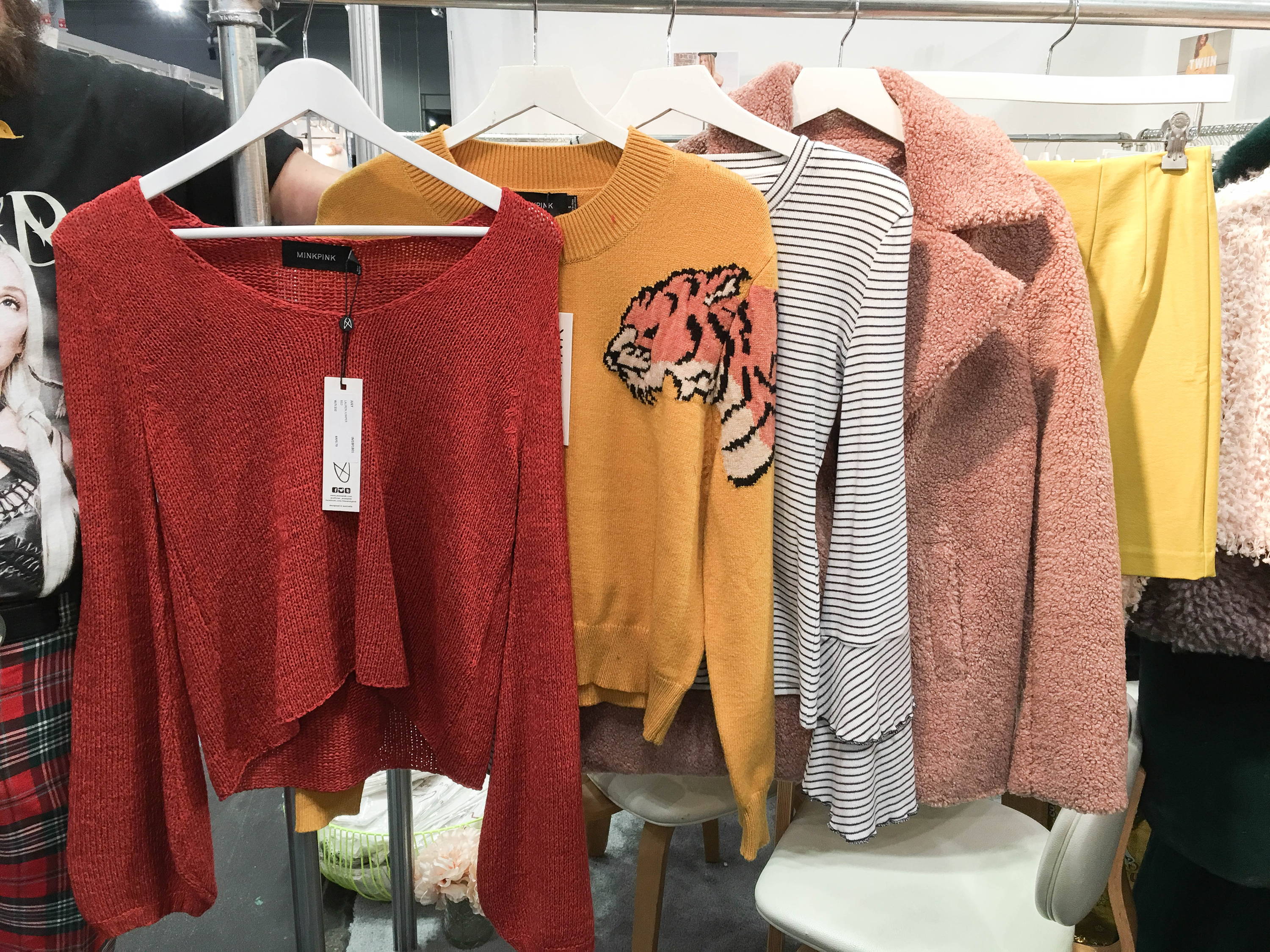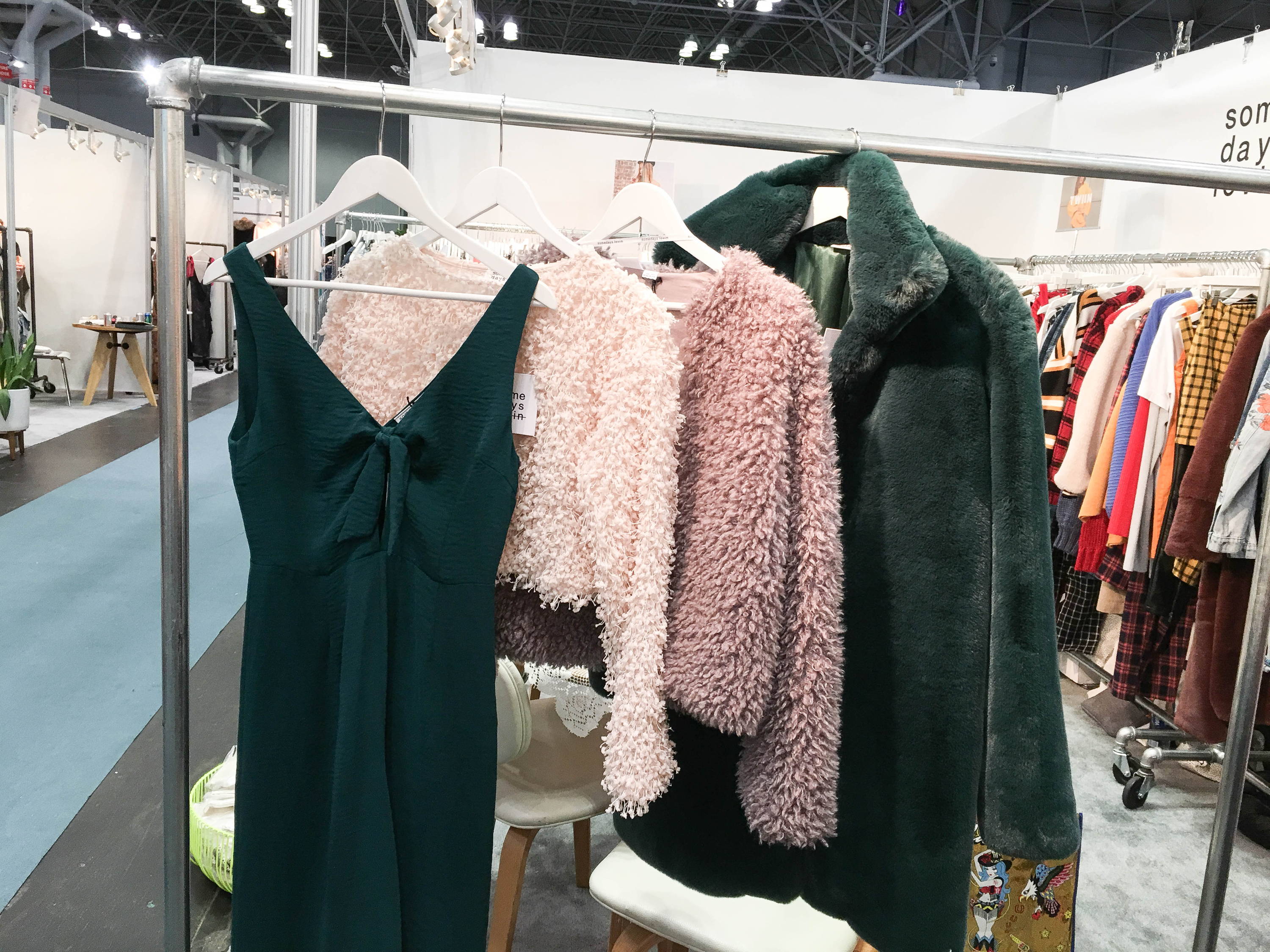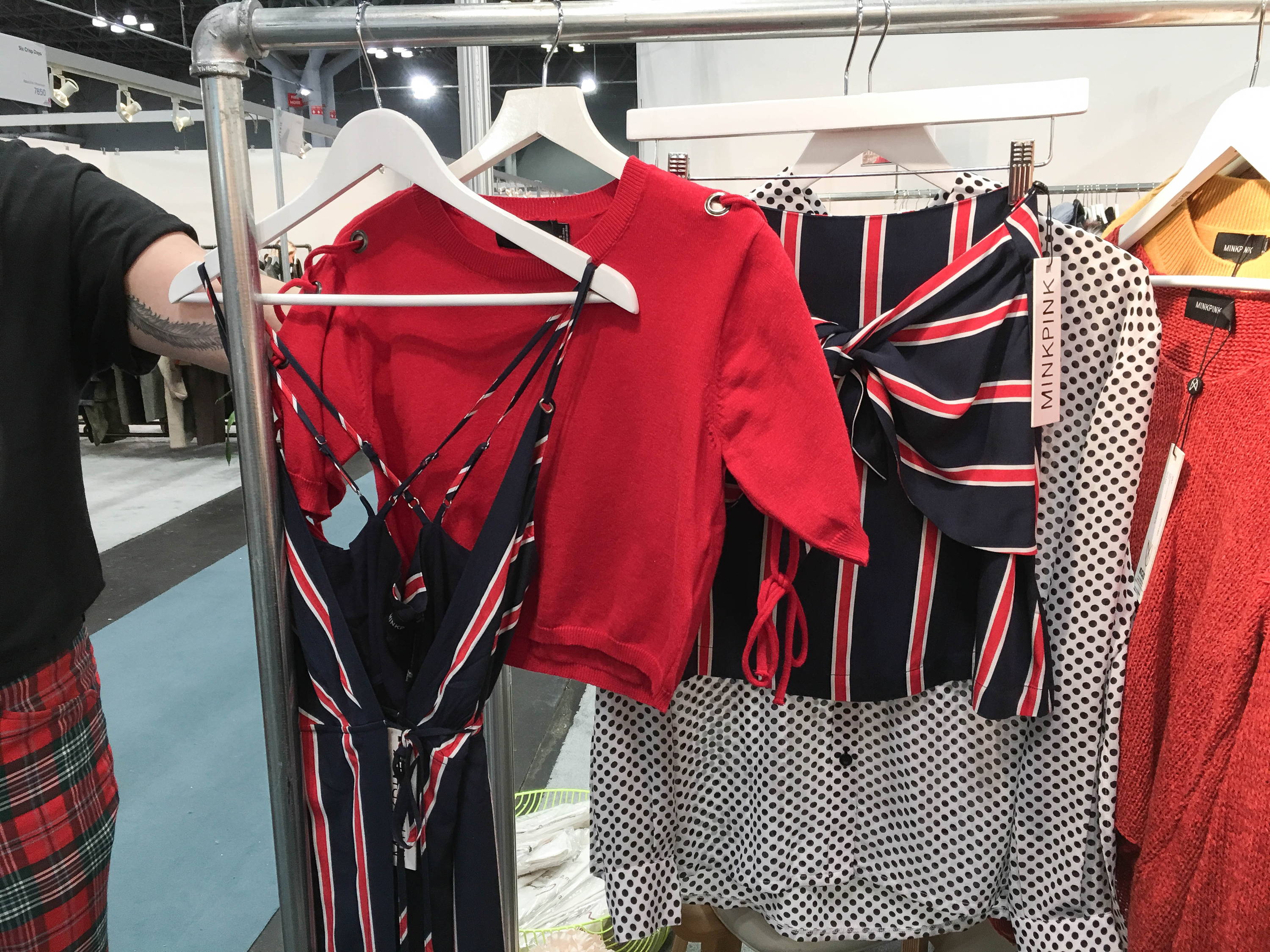 Swipe for a Fall 2018 Sneak Peek ☝️
The next day we hit up Coterie where we were able to get a headstart on our fall assortmen, stocking up on staple brands like MINKPINK, Somday's Lovin, and Free People! We've also recently brought in some new brands we're super excited about including Astr, Lost & Wander, Gentlefawn, and See U Soon! For Fall 2018, we're seeing tons of faux fur (which we can never get enough of) along with more structured suiting and separates, and really bold colors and prints! It's always a little off-putting, picking out cozy sweater and jackets, when spring hasn't even fully started!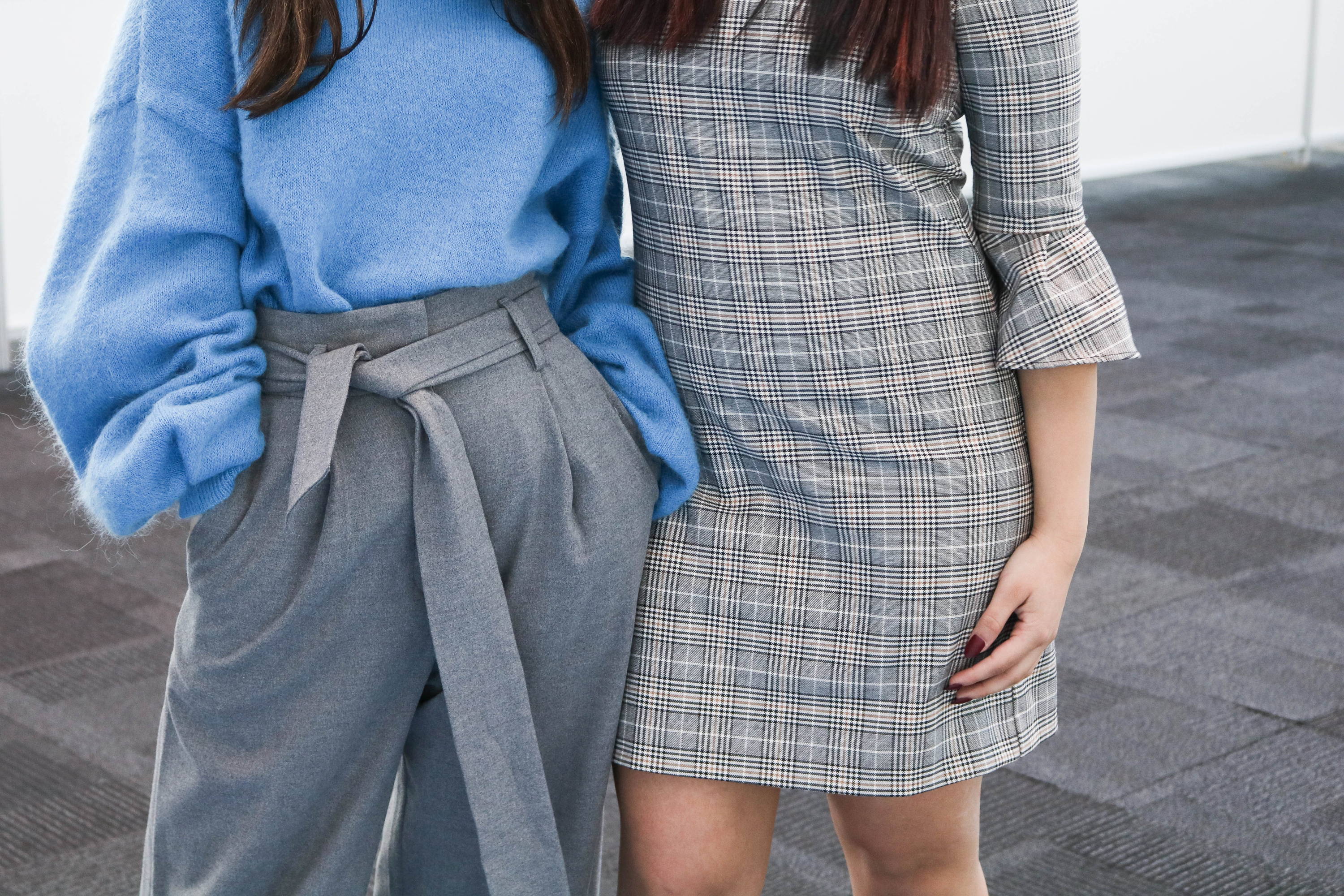 Haylie from Babel Fair Showroom and her epic belt bag!
One thing we still need to find for Calico is belt bags! We've been noticing these fashion fanny packs everywhere, and I love this one on the Babel Fair intern, Haylie! I also wore a belt bag, while I was walking around the shows, and it was perfect! It's great having your shoulders totally free and nothing in your hands, when you're doing a ton of walking! Bonus, if you can find one with cool details like these metal cougar heads!