Elissa Posted on November 17 2017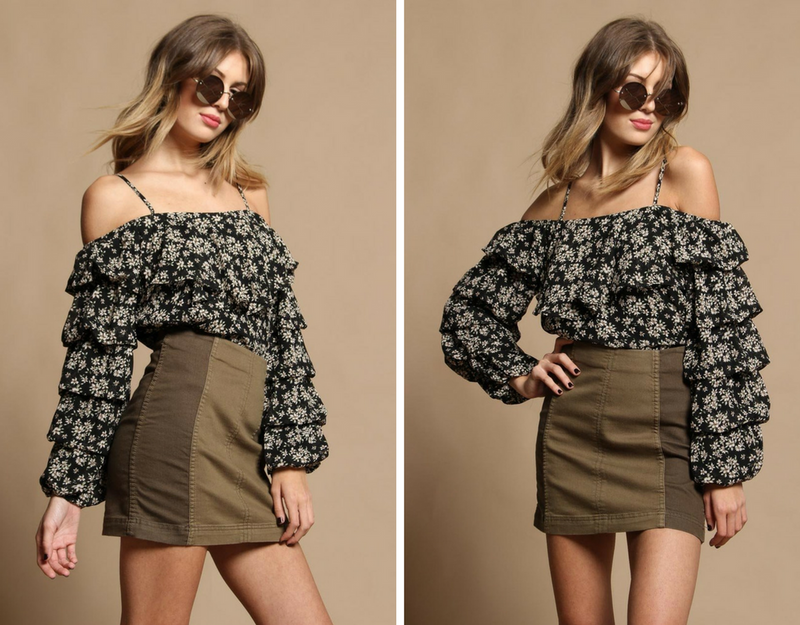 Since our last post was all about staple styles - items you have in your closet now that can take you from this season to forever - I thought I would follow up with some statement styles! Pick up these key pieces this season to keep your look current, fresh and on trend.
Here are my top three statement styles you need to take your fall wardrobe to the next level!
Tops with Sleeve Interest
From wrist ties, cut out shoulders, and to ruffle details, sleeve interest is the way to go for Fall 2017! Just because it's cold and miserable outside doesn't mean you have to look bulky and boring! Tops with sleeve interest are super-versatile and can be easily dressed up or down! Pair em' with Converse and denim or a tapered trouser a pair of heels for an instantly chic and totally effortless look. One of my favorites is the Joanna Tiered Ruffle Top from Lucca. It features the most gorgeous floral print, cold shoulder halter fit, and dramatic ruffle sleeves. Pair it with your favorite skinny jeans or dark flare leg denim or tuck into a highwaisted skirt for a majorly cute look!
Denim With Unexpected Details
Denim is obviously a staple style, but try a pair with some unique elements - like ruffles or frayed fringe - to make them totally of-the-moment. To balance out the drama of your statement denim, team them with a minimal top and shoe. One of my favorite pairs in the store right now are the 
Crop Out Ankle Jeans.
These are a fresh take on your classic dark wash jeans, featuring a midrise fit, deep blue dark wash, and cropped ankle with frayed edge. These are perfect for those fun party looks, where you want to look festive yet dressy - but you don't wanna wear an actual dress!
Big Ass Statement Earrings
When it comes to earrings for Fall 2017, bigger is definitely better. Statement earrings are such a fun and easy way to add a ton of impact to your look with minimal effort! Pair them with a t-shirt and jeans and your look is instantly elevated! Check out the Shield Tassel Earrings - elegant, interesting and only $22? You literally can't go wrong!