Elissa Posted on December 07 2017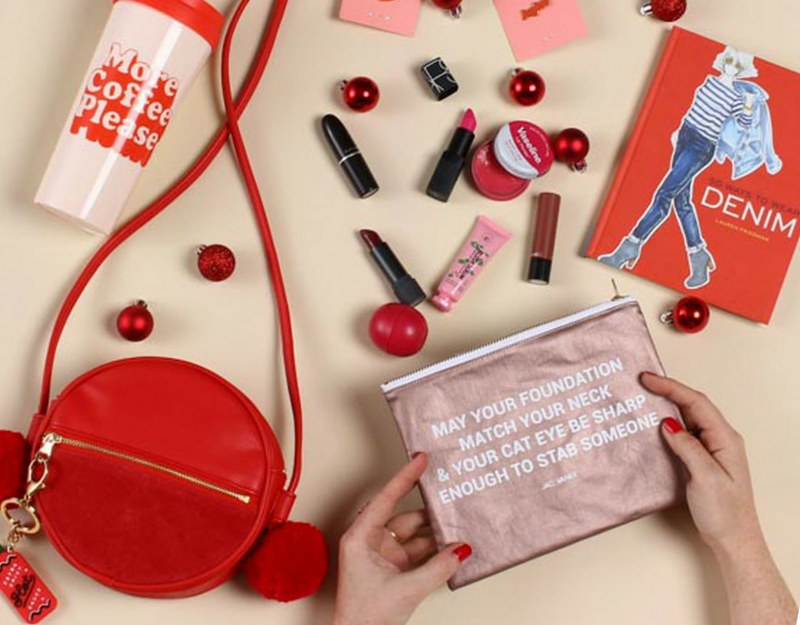 The holiday season is here and we have tons of super-cute gifts in stock - most under $30! Because, let's face it - you need to save a little extra money to TREAT YO'SELF while you're buying gifts for everyone on your list! Amma right, ladies?

Coffee Table Books
We have so many great titles right now, and one of my faves is 50 Ways To Wear Denim! It shows you a bunch of different ways to cuff your denim, pair your denim with different shoes, style denim into killer outfits, and so much more! Not only is this a great styling resource for that denim-loving fashionista on your list, but the illustrations are super-cute!
Another one I love is our Icons Of Style postcard collection, featuring muses like Elizabeth Taylor, Bridget Bardot, Audrey Hepburn, and many more! They're great to use as postcards - or frame them up and decorate your dorm or apartment!
Cute Mugs That Say Stuff
If the people on your list don't like coffee, they probably suck and you need new friends! JK, JK - but really though! Coffee mugs make an awesome gift! They're great for coffee (obvi), tea, or if you don't like hot bevvies at all? They make a great place to keep your pens!
Fashionable Fitness Gear
It's that time a year again when everyone is making their resolutions, and fitness is at the top of everyone's list! I don't know about you, but cute workout gear always helps me stay on track and motivated! I love these pink gym accessories from Bando! Our Bando I Did My Best Duffel Bag is ample enough to fit all your gym essentials and I love the vintage-inspired look! And the matching yoga mat will make you the envy of all the girls at your vinyasa class! 
Goal-Crushing Agendas & Accessories
Another New Year's goal is to get organized - and it's easy with Bando agendas and desk accessories! I absolutely love their fun illustrations! They always have fun holidays included, like National Pizza Day and National BFF Day, and every agenda some with tons of matching stickers!
Cute Candles
Everyone loves candles. From your grandma to your twelve-year-old neice, who can resist and delish smelling candle? Esecially when said delish candle is enscronsed in a super-pretty tin or ceramic pot? I absolutely love Sydney Hale's Bourbon and Brown Sugar! And our new arrivals from Illume are so perfect for the hoidays - one smells like a sugary Christmas tree and the other smells exactly like you're hanging out by a campfire - only you never have to leave your couch - or wifi connection! Pro Tip! Repurpose the candle holder, after you've finished the candle - use it to store your makeup brushes or plant a little succulent inside!
Watch My Facebook Live to see even more cute gifts, all under $30!